DENISE McCOY LITERACY AWARD
Established in 2005, the Denise McCoy Literacy Award formerly known as the Little d award, honors the author of the previous year's most humorous children's book as recommended by the Albany Public Library Youth Librarians and selected by the award committee. Funds raised through this event are used to expand children's literacy programs in our area and the Denise McCoy Scholarship Fund.
The award was established to honor the beloved local independent bookstore owner Denise (denise) McCoy who preferred to write her name with a little "d". Denise was a strong advocate for children's literacy and more than one-third of her shop was allocated to children's books. Denise was also involved in the literary portion of the 15-LOVE Program, the Book Power Club and is fondly remembered for her inspired readings to the children, particularly humorous books, which she adored, having an incredible sense of humor herself. Denise passed away suddenly in 2003.
The Denise McCoy Literacy Award commemorates Denise's legacy for improving children's literacy along with her fine humor.
MISSION
Our mission is to promote and improve children's literacy and the love of reading, particularly in the inner-city, by engaging in the following activities:
1. Honoring an author of a humorous children's book with the Denise McCoy Literacy Award in Denise's memory.
2. Encourage literacy through fun Kids Read Events in partnership with children's book authors, 15- LOVE, schools, libraries, and bookstores.
3. Contribute to the Denise McCoy Scholarship as well as other literacy programs.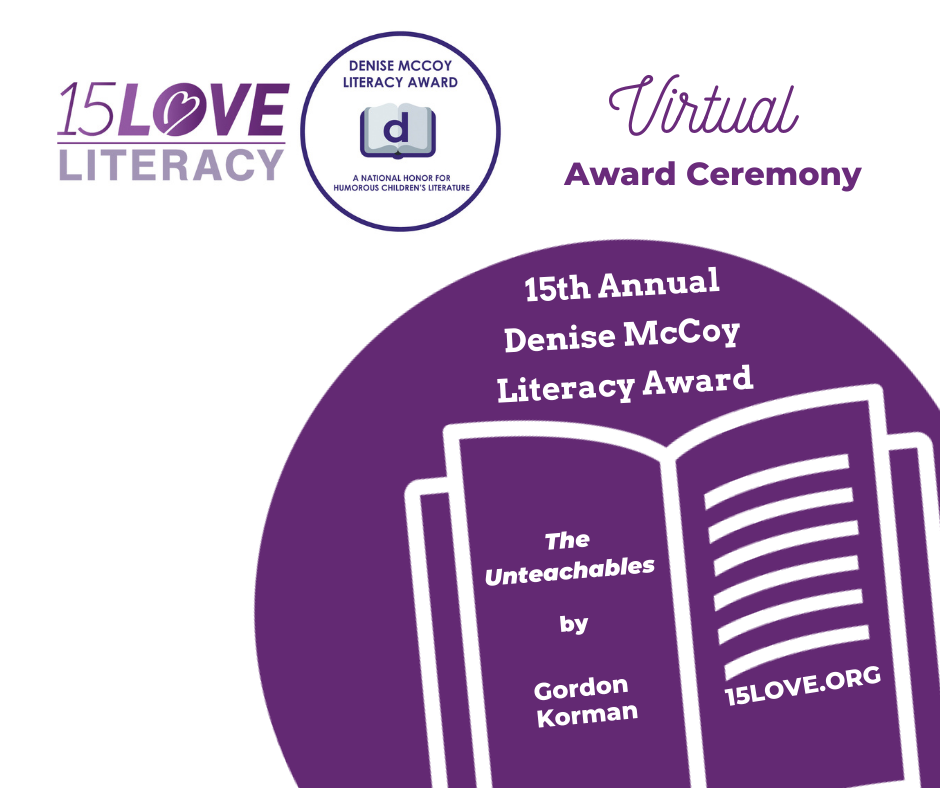 Denise McCoy Literacy Award
This year's  Denise McCoy Literacy Award (Little d Award), took place virtually on December 3, 2020 via Zoom. 

Thank you to all that attended this wonderful literacy event. Your support will help fund 15-LOVE's literacy initiatives, including the Denise McCoy Scholarship Fund, book distribution program, and summer literacy programs.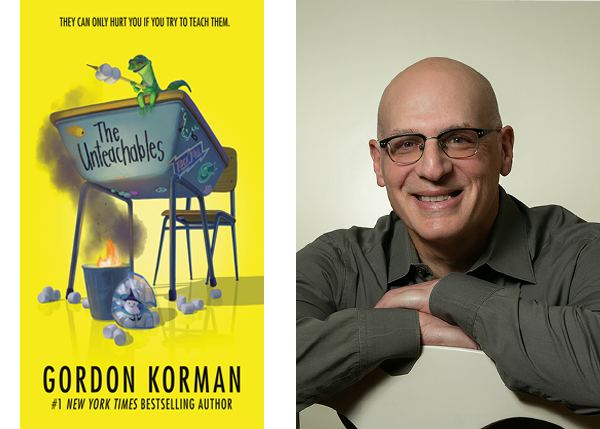 2020 Recipient of the Denise McCoy Literacy Award
The Unteachachables, by Gordon Korman
Welcome to the wonderful world of a regular guy who just happened to write 90-something books for kids and teens.
Gordon Korman was born on October 23, 1963 in Montreal, Canada, and grew up mostly in the Toronto area.
His writing career began virtually by accident when I was in 7th grade. The track and field coach had to teach English. For creative writing, he gave his kids the total freedom to work on whatever they wanted for the rest of the year. It was February. That added up to a class period per day for more than four months. The result was his first novel, THIS CAN'T BE HAPPENING AT MACDONALD HALL.  Read more about Gordon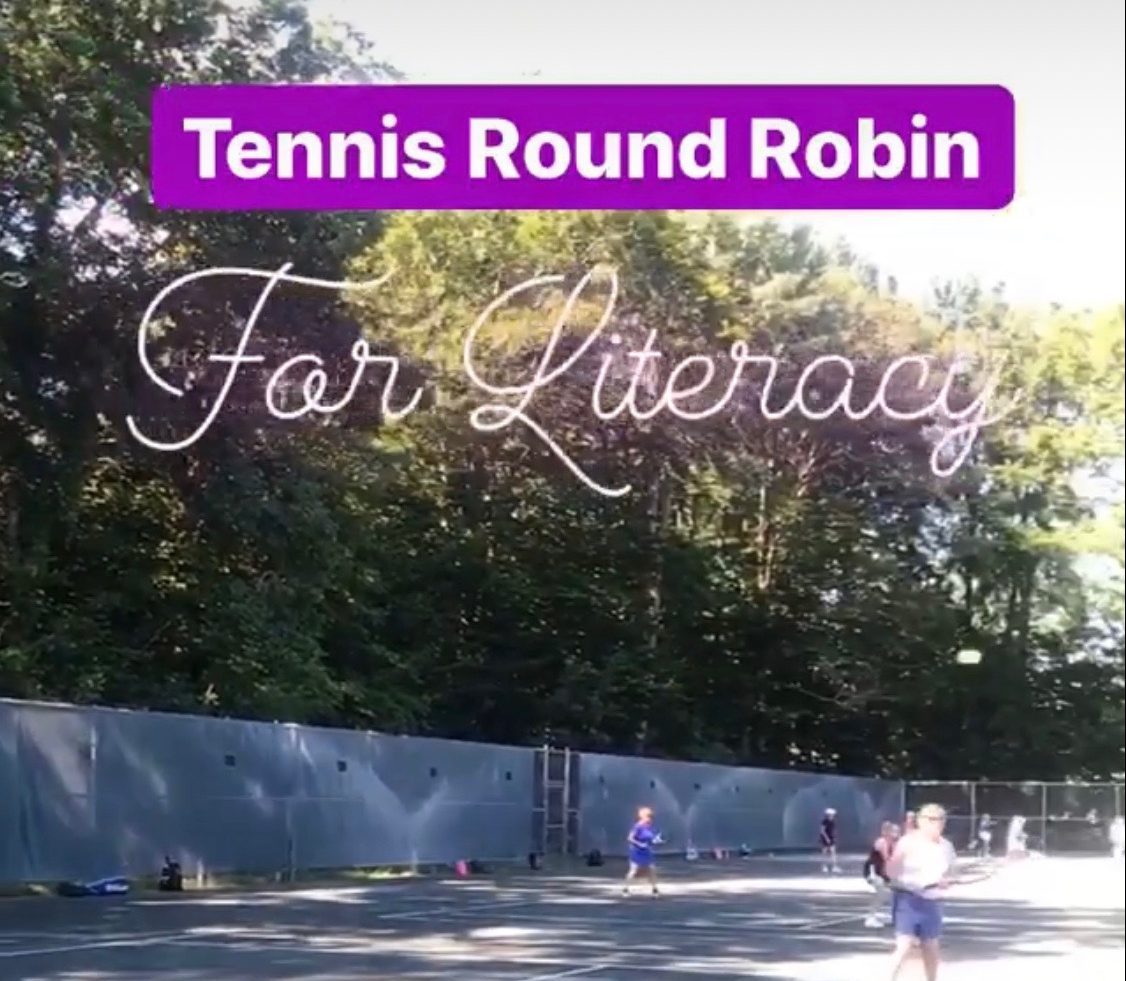 Nomination/Selection Process
The youth librarians from the Albany Public Library System, serving children, teens, and families, use their extensive knowledge of children's books to develop a short list of kids' favorite books that were published in the prior calendar year.
A group of our Excellence participants read the nominated books and offer a weighted vote to the members of the Denise McCoy Legacy Award Committee. The Committee also reads the nominated books and chooses a winner.
Denise McCoy Memorial Scholarship
In 2004, the Capital Region Youth Tennis Foundation (CRYTF), which operates the 15-LOVE Program, in cooperation with Kevin McCoy, Denise McCoy's husband, established a scholarship fund in her memory. 15-LOVE and Denise share a passion for education and the belief that anyone with the desire to attend an institution of higher education should be able to find resources available to help make that happen.
Each year, CRYTF seeks to award scholarships to deserving students who have participated in the 15-LOVE program at any point during their lives. The scholarship is generally given for four years, and typical awards are $1,000 per academic year (for a total of $4,000).  Scholarship recipients are expected to maintain contact with 15-LOVE annually to report on their progress while in school, through a January progress report.
Students interested in applying for the 2019 scholarship should check back in spring for application forms.​
Kids Read Events
These events are designed to broaden and deepen an appreciation of reading in grades 3-5. Activity booklets and art/essay contests based on our award-winning book are part of our enrichment plans. Future endeavors hopefully will bring more author/illustrations into our classrooms by utilizing Skype and local talent.