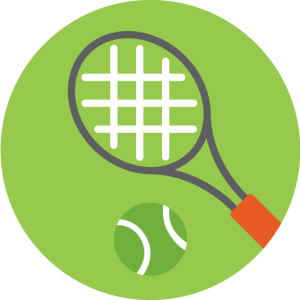 ABOUT OUR TENNIS PROGRAMING
15-LOVE was founded on Arthur Ashe's philosophy to "use tennis to teach the game of life." We aim to use tennis as our medium to reach inner-city children in the Capital Region.
We are best known for our free tennis & life skills lessons for children ages 4-18 (with adult classes offered over the summer so families can learn together). Lessons are offered indoors over the winter (October – April) and outdoors over the summer at numerous locations throughout Albany, Schenectady, Troy and Rensselaer (June – August).
Our instructors receive extensive training and act as positive role models for our youth participants. The primary success of the program, positively impacting the lives of young people, stems from the relationship developed between our instructors and participants. We have an outstanding group of instructors who provide encouragement and build self-esteem in our youth participants. Most of our instructors are graduates of the program.
View 2023 Summer Program Photos
15-LOVE encourages multi-cultural experiences through:
Field Trips – The 15-LOVE Program has had the opportunity to introduce a variety of experiences to its participants not limited to tennis. Tennis events which are attended by youth include annual trips to New York City and Connecticut for tournaments, and Arthur Ashe Kids Day at the US Open. Trips have also included local plays, movies, and museum trips.
15-LOVE challenges tennis skills learned through:
Game Days/Jamborees – 15-LOVE coaches conduct special activities on designated days for competition and prizes. Participants from several sites come together to compete and have fun.
Junior Team Tennis – 15-LOVE has multiple teams in local USTA Junior Team Tennis leagues. The kids compete against other area teams for the chance to make it to playoffs and USTA Sectional events.
Our Mission: "To reach out in a loving, caring way to youth of the Capital Region, using tennis as the medium, especially those in the inner cities"
Excellence Program
The 15-LOVE Excellence Program exists to encourage each individual to strive for personal excellence on and off the tennis court. The program offers advanced lessons for committed participants in preparation for competitive tennis at the high school and collegiate level. The Excellence Program promotes leadership, teamwork, diversity, community service, personal ambition, and healthy living on and off the tennis court. 15-LOVE provides participants with opportunities to play competitive tennis in leagues and tournaments both locally and regionally.