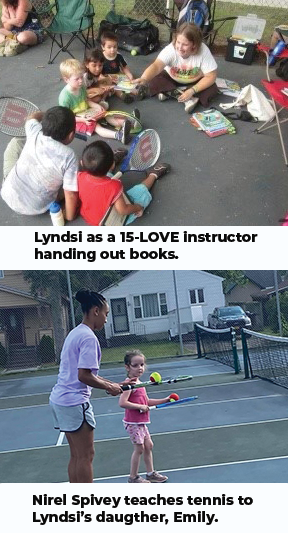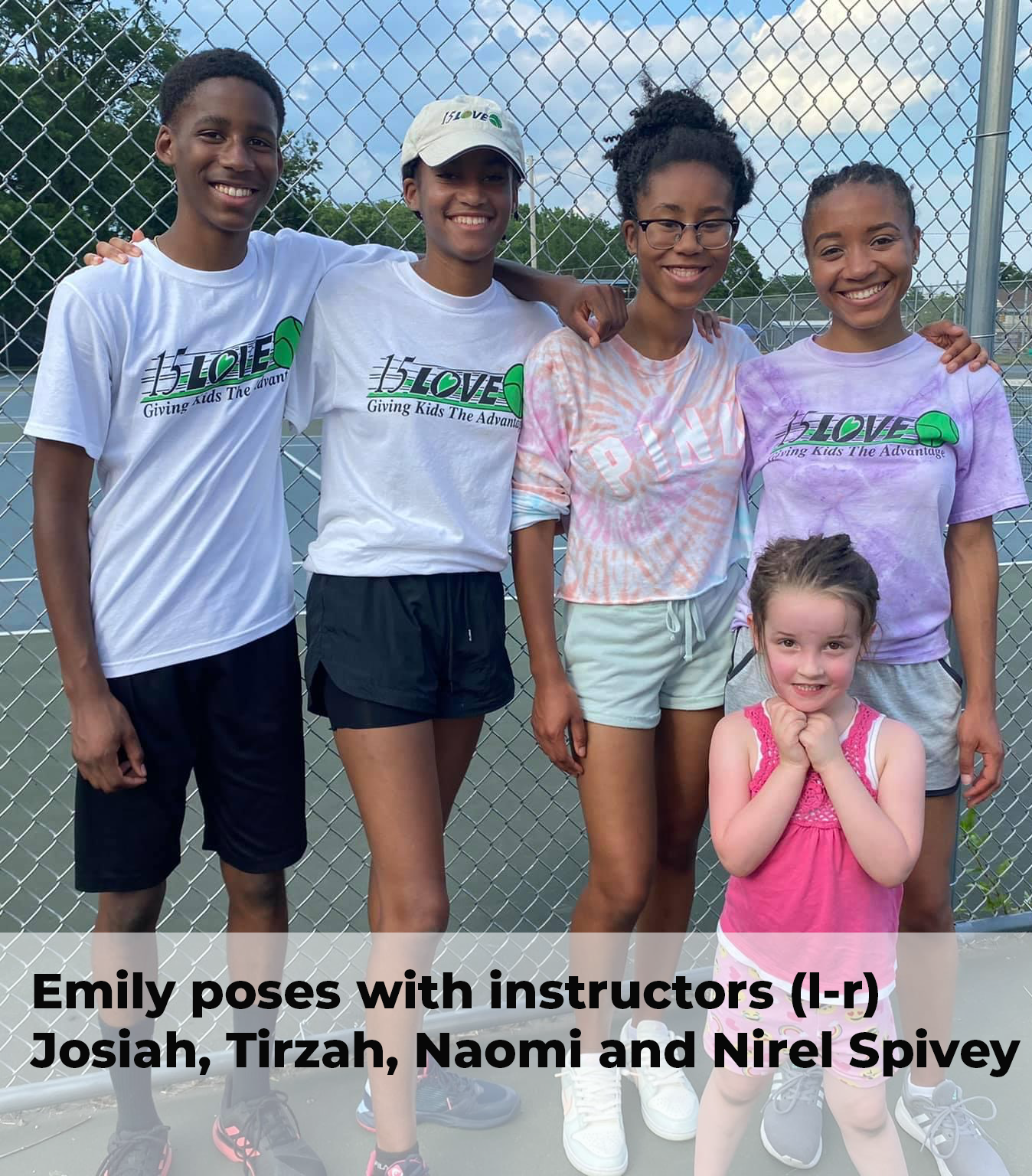 Dear Friend,
My journey with the 15-LOVE program began when I was in middle school. At the time, I played other sports like softball, horseback riding and skiing, but they were for therapeutic reasons because I was born with a physical disability and needed to build strength. These programs were for those specifically with disabilities and I wanted an integrated sports experience. I do not know how my mom found 15-LOVE, but right from the start, I was hooked.
In middle school, I took tennis lessons over the summer at the Michigan Ave. courts in Schenectady. Small classes in the afternoon allowed me to truly develop my skills, strength and confidence. I now know this was important because when the time came, I was ready for 15-LOVE's Excellence Program in high school. I was able to fit right in with all the other players.
In addition to the fun time we had on the court, what really sticks out in my memory was the time off court. From college prep classes at the office and laughing on the way to New York City where we met the Blake Brothers and played kids from the Harlem Junior Tennis program, I valued my time at 15-LOVE. The program allowed me to meet kids from all different backgrounds and experiences. We grew together as a group. I also was able to introduce a group of friends with disabilities looking for tennis lessons. Naturally, I was not surprised when Coach Ryan agreed to start an adaptive class (despite having no formal training to my knowledge). This was the first full circle moment for me at 15-LOVE.
In the summers as a college student, I worked for 15-LOVE both as a tennis coach and the literacy coordinator. Being back on the Michigan Ave courts and watching kids not only learn tennis skills, but life lessons and make lifelong friendship was my full circle moment number two. It was humbling to work with a dedicated group of instructors who were just as committed to the 15-LOVE mission as my coaches were when I was a player.  There are no words to express the gratitude I had, and still have today, for the program. Being part of the 15-LOVE family is incredible.
Fast forward to summer, 2021. I have graduated college, gotten married, have a daughter, and work full-time at a non-profit in Albany. I have managed to squeeze in a few adult 15-LOVE lessons too. I believe what I saw at 15-LOVE about the power of community and offering opportunities has had an influence on my choice to go into non-profit work, my third full circle moment.
Like most people, the pandemic caused me to lose a bit of my sense of community. This summer, my husband and I realized that our 4-year old daughter was old enough to join 15-LOVE and we enrolled Emily. 15-LOVE took all the right measures to keep kids safe. In addition to the lessons being outdoors, they now had racquets for every student to keep throughout the summer provided hand sanitizer, and put in place so many other precautions.
Imagine my surprise when I brought Emily to 'good old' Michigan Ave. for lessons, not only were the courts redone (because of the efforts of 15-LOVE) but they added small-sized courts—the perfect size for my daughter. Plus, four of Emily's coaches were former students I had when I coached so many years ago … that's two more full circle moments!
15-LOVE has had an immense impact on my life. I do not think there will ever be a time when this program is not a part of my life. It continues to shape me and now is impacting my daughter. I have witnessed the program grow and change with the times, but they always stick to the goal of giving kids an advantage. I consider watching this organization grow a great privilege.
With your support, I look forward to what the future holds for the kids of 15-LOVE.
From my family, thank you for your generosity.
Lyndsi Holmes Wickert