Past Recipients of the Denise McCoy Legacy Award
View the list of our past award winners!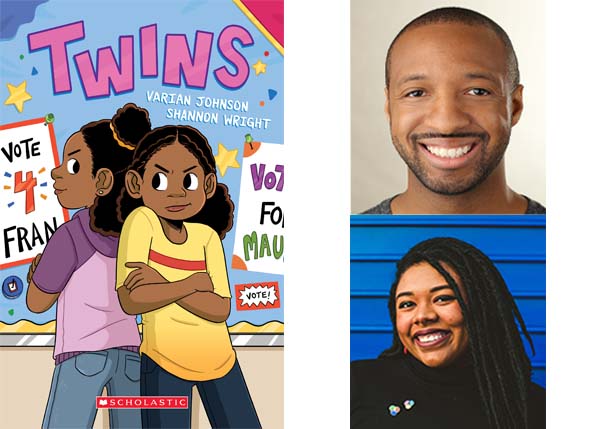 2021- Varian Johnson & illustrator Shannon Wright
Varian Johnson is the author of several novels for children and young adults, including The Parker Inheritance, which won both Coretta Scott King Author Honor and Boston Globe/Horn Book Honor awards; The Great Greene Heist, an ALA Notable Children's book and Kirkus Reviews Best Book; and the graphic novel Twins, illustrated by Shannon Wright, an NPR Best Book.
Varian was born in Florence, South Carolina, and attended the University of Oklahoma, where he received a BS in Civil Engineering. He later received an MFA in Writing for Children and Young Adults from Vermont College of Fine Arts, and is honored to now be a member of the faculty. Varian lives outside of Austin, TX with his family.
Shannon Wright is an  illustrator and cartoonist based out of Richmond, Virginia. Some of her clients include The Guardian, TIME Magazine, NY Times, Mother Jones, NPR, Google and Scholastic.  TWINS, is Shannon's debut graphic novel.
Shannon creates personal and original stories invoking nostalgia rooted from her own childhood and life around her, but ultimately, she likes capturing joyous moments.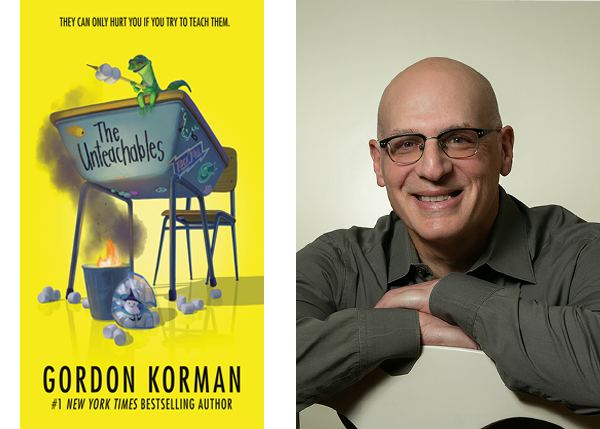 2020- Gordon Korman
Welcome to the wonderful world of a regular guy who just happened to write 90-something books for kids and teens.
I was born on October 23, 1963 in Montreal, Canada, and grew up mostly in the Toronto area.
My writing career began virtually by accident when I was in 7th grade. The track and field coach had ​to teach English. For creative writing, he gave us total freedom to work on whatever we wanted for the rest of the year. It was February. That added up to a class period per day for more than four months. The result was my first novel, THIS CAN'T BE HAPPENING AT MACDONALD HALL.  https://gordonkorman.com/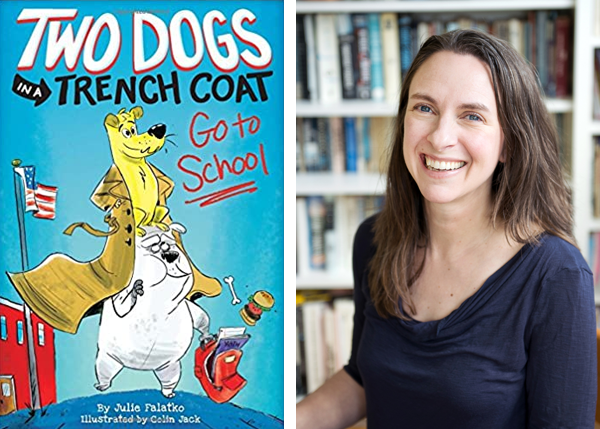 2019 – Julie Falatko
Julie Falatko writes books for children. She likes to write about talking animals. And talking furniture. Sneakers, flowers, muffins, all talking. It's like there's nothing in her world she won't slap a mouth on just to hear it blab.
Julie is the author of the picture books Snappsy the Alligator (Did Not Ask to Be in This Book) and Snappsy the Alligator and His Best Friend Forever (Probably) illustrated by Tim Miller, (Viking Children's), and Two Dogs in a Trench Coat Go to School (Scholastic).  Julie lives with her husband and their four children in Maine, where she maintains the Little Free Library in front of their house. They also have a little dog named Cosmo and a big dog named Marlo.  https://juliefalatko.com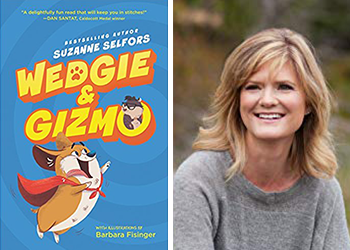 2018 – Suzanne Selfors
Suzanne is a national best-selling author who lives on an island in the Pacific Northwest where rain falls like music and slugs frolic beneath ferns. She has a husband who works as a pilot, two grown-up kids, a rescue cat who was found living in a hole in a wall, and a sheltie who is her muse.
​Suzanne attended Bennington College, and graduated from Occidental College, Cum Laude and with Honors, earning a BA in Theatre/Film Studies.  She graduated Cum Laude from the University of WA with an MA in Communications. https://www.suzanneselfors.com/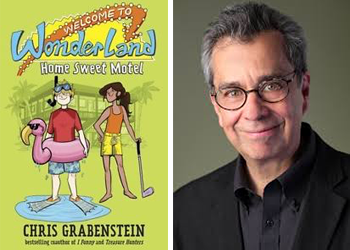 2017 – Chris Grabenstein
Chris Grabenstein is the author of the New York Times bestsellers Welcome to Wonderland, Home Sweet Motel, The Island of Dr. Libris,  Escape From Mr. Lemoncello's Library,  and Mr. Lemoncello, and Mr. Lemoncello's Library Olympics. He is also the co-author (with James Patterson) of the #1 Bestsellers I Funny, House of Robots, Treasure Hunters, Jacky Ha-Ha. Word of Mouse, and many others. Chris pronounces GRABENSTEIN! (It sounds like Frankenstein)
Winner of all sorts of awards, Chris writes fast-paced and fun page-turners for children and adults. He's also a playwright and screenwriter not to mention a former advertising executive and improvisational comedian. Sometimes he sleeps.
https://chrisgrabenstein.com/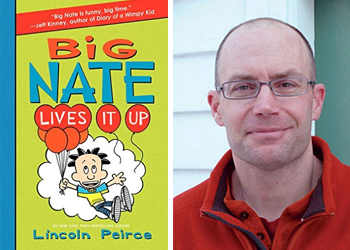 2016 – Lincoln Peirce
Lincoln Peirce  is an American cartoonist, best known as the creator of the Big Nate comic strip, which debuted in 1991 and appears in 200 newspapers in the US and online daily at GoComics and Poptropica. In addition to the Big Nate comic strip, Peirce is the author and illustrator of the New York Times bestselling Big Nate novel series.  His Big Nate books have been featured on Good Morning America and in the Boston Globe, the Los Angeles Times, USA Today, and The Washington Post.  View photos from the award ceremony.
2015 – Micheal Fry
Michael Fry is an American cartoonist, online media entrepreneur and screenwriter. He is known for the syndicated comic strips Committed and Over the Hedge, the latter of which is a collaboration with T. Lewis. Committed was turned in to an animated televesion show and Over the Hedge inspired the 2006 Dreamworks film starring Bruce Willis and Steve Carell. Presently Fry is the author/illustrator of the middle grade illustrated novel series "The Odd Squad" for Disney – Hyperion. So far the book series has included: "The Odd Squad: Bully Bait "The Odd Squad: Zero Tolerance and "The Odd Squad: King Karl". Fry also co-founded and is currently President of the new media company RingTales. RingTales animates print comics for all digital media. RingTales has the exclusive rights to animate Dilbert, The New Yorker Cartoons, Over the Hedge, Pooch Cafe, Lio, Cul de Sac, Pearls Before Swine and Bloom County. Ringtales animations can be seen on Babelgum, YouTube, MSN, iTunes, Dilbert.com, NewYorker.com and many other distribution sites. To stay in tuned with the Odd Squad series visit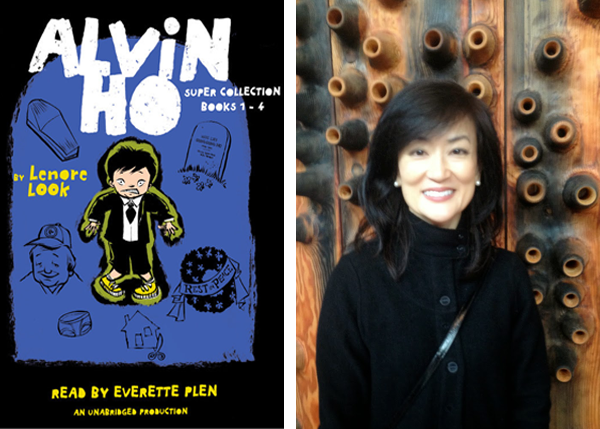 2014 – Lenore Look
Lenore Look, currently a very successful author of award winning children's books, will also be an acclaimed international author as her Alvin Ho series is being published in China! Lenore grew up in Seattle, Washington and moved east to attend Princeton University. There she wrote for her college paper and after graduating she was a journalist on both east and west coasts and later taught creative writing at two colleges back east. Alvin Ho, Allergic to Dead Bodies, Funerals, and other Fatal Circumstances, is the fourth book in the extremely funny and thought provoking Alvin Ho series. Alvin, a very nervous second grader, while trying to comfort his beloved grandfather, creates a big miscommunication that gets totally out of hand at school. This leads to a madcap event that will have you rolling in the aisles. Besides being extremely funny, the book allows Alvin and others to explore their feelings about those close to them and it shows the strong support family and friends can have for each other. Lenore currently lives in Hoboken NJ and has two daughters recently graduated from college. For more information on Lenore Look and her newest books and adventures go to lenorelook.wordpress.com.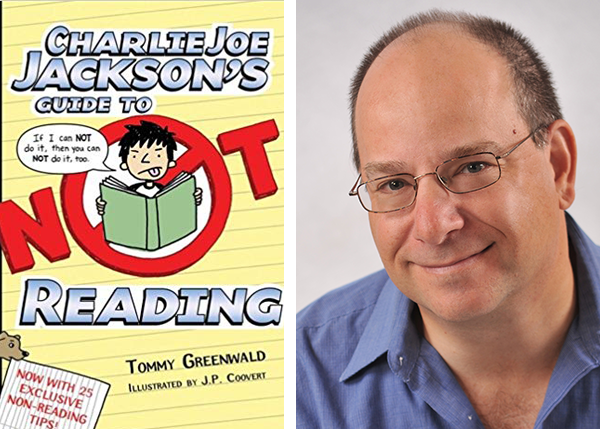 2013 – Tommy Greenwald
Tommy Greenwald is an American playwright as well as the Executive Creative Director of SpotCo, a theatrical and entertainment agency that creates advertisements for Broadway shows and other entertaining enterprises. Charlie Joe Jackson's Guide to Not Reading is Mr. Greenwald's debut middle grade fiction book, which is a hilarious look at a reluctant reader and the complicated means by which he attempts to not read. The Charlie Joe Jackson books are projected to be a five book series and the second book, Charlie Joe Jackson's Guide to Extra Credit, is currently available. Tommy himself, an avid reader, wrote the book in an attempt to get his three sons Charlie, Joe, and Jackson interested in reading. Reluctant readers are the target, but the humorous and relevant nature of the book, will attract a wide following. Tommy lives in Connecticut with his wife Cathy, their three sons, and two rescue dogs Moose & Coco. For more information and laughs go to www.tommygreenwald.com.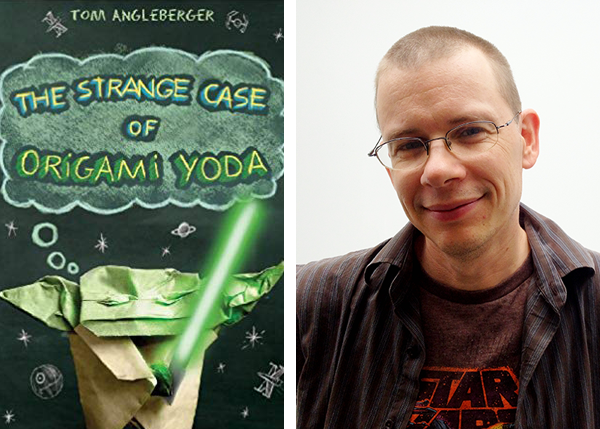 2012 – Tom Angleberger
Tom Angleberger hails from Christianburg Virginia, where he lives with his author-illustrator wife, Cece Bell, their sons, and their pet dogs.  Tom, an author-illustrator himself, has also won the 2012 Texas Bluebonnet Award and the E.B. White Read Aloud Award for his book The Strange Case of Origami Yoda.  Before Tom became a best-selling, award-winning author, he was a newspaper reporter and columnist for the Roanoke Times and a professional juggler, among other things.  Tom pulled inspiration from his own middle school experiences to craft his zany but astute story of the dynamics of a 6th grade class and an eccentric, clueless kid named Dwight who becomes sage-like when he dons the yoda finger puppet. Tom, who is gifted in his work with children (just google his name) cites Asperger's Syndrome as his superpower on his bio page.  Whatever his secret, the Origami yoda series along with his other books are a delight to the kids.  To learn the secret of how to make the yoda finger puppet go to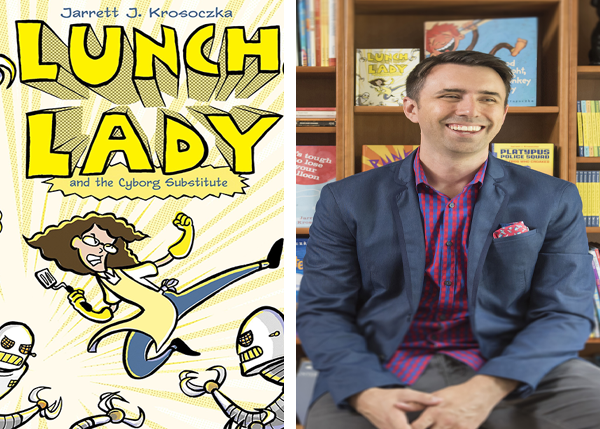 ​

2010 – Jarrett J. Krosoczka

Jarrett J. Krosoczka used to be a goofy kid that liked to draw. Now, he is an award winning published author/illustrator with many books to his credit. Growing up in Worcester, MA Jarrett drew relentlessly and always had a cast of characters that he wrote stories for. A graduate of the Rhode Island School of Design, Jarrett has been chosen by Print as one of their 20 top new visual artists under 30 and has had his work short listed by Newsweek, USA Today, The Boston Globe and The New York Times, among others. Jarrett's Lunch Lady series is currently in development as a feature film. Jarrett currently resides in Northampton, MA with his wife and daughter and their pug.  http://www.studiojjk.com/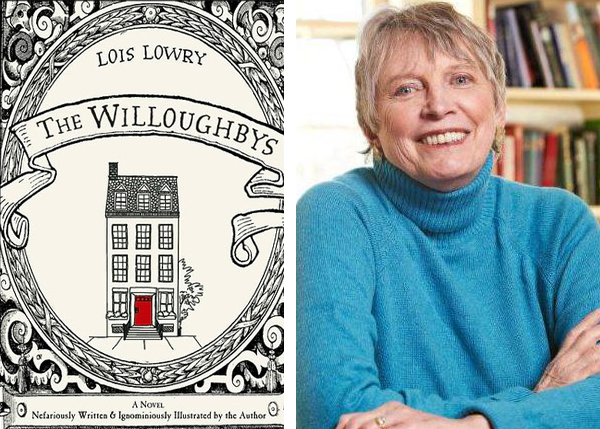 2009 – Lois Lowry
Lois Lowry is known for her versatility and invention as a writer. She was born in Hawaii and grew up in New York, Pennsylvania, and Japan. After several years at Brown University, she turned to her family and to writing. She is the author of more than thirty books for young adults, including the popular Anastasia Krupnik series. She has received countless honors, among them the Boston Globe-Horn Book Award, the Dorothy Canfield Fisher Award, the California Young Reader's Medal, and the Mark Twain Award. She received Newbery Medals for two of her novels, Number the Stars and The Giver. Her first novel, A Summer to Die, was awarded the International Reading Association's Children's Book Award. Ms. Lowry now divides her time between Cambridge and an 1840s farmhouse in Maine. To learn more about Lois Lowry, see her website at www.loislowry.com.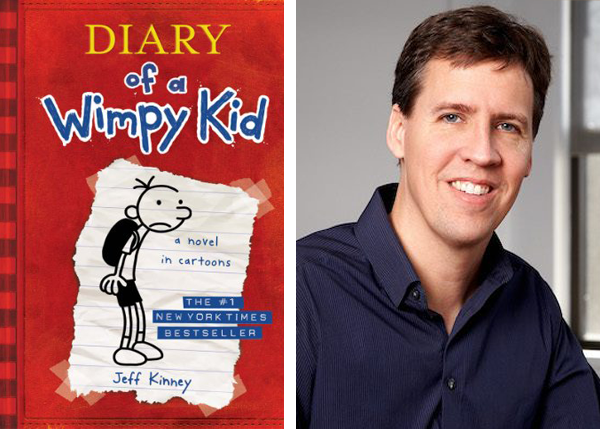 2008 – Jeff Kinney
Jeff Kinney tried his hand at being a cartoonist and writing a comic strip before becoming the author of a successful children's series. Born in Maryland Jeff attended the University of Maryland and after college began writing down ideas that would eventually lead to his book series. The first book, Diary of a Wimpy Kid, was released in 2007 and became a New York Times #1 bestseller and the winner of the 2008 Little d Award. In addition to being a #1 New York Times bestselling author, Jeff also created Poptropica.com and works full time as the design director of an internet publishing company. Jeff lives in southern Massachusetts with his wife and two sons. https://wimpykid.com/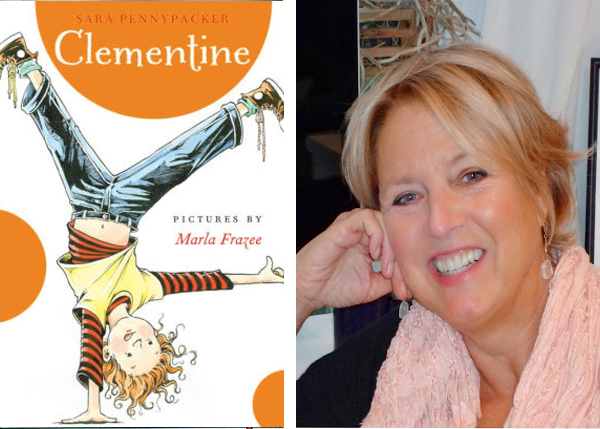 2007 – Sara Pennypacker
Sara Pennypacker was a painter before becoming a writer and many are grateful for that change in careers as Sara has created a new series with Clementine, one of the most amusing and original characters you will ever have the pleasure of meeting. The illustrations by Marla Frazee are an added bonus. Sara has two wonderful grown children and hales from Cape Cod, Massachusetts. http://sarapennypacker.com/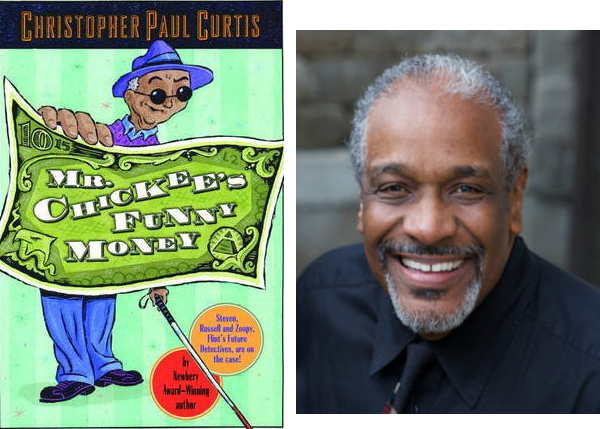 2006 – Christopher Paul Curtis
Christopher Paul Curtis won both a Newbery Honor and a Coretta Scott King Honor for his debut novel, The Watson's Go to Birmingham. His novel Bud, Not Buddy won the Newbery Medal and the Coretta Scott King Medal. Mr. Curtis grew up in Flint Michigan and worked on the assembly line at Fischer Body Flint Plant No. 1 while attending the Flint branch of the University of Michigan where he began writing both essays and fiction. Now a full-time writer, Mr. Curtis lives in Windsor, Ontario, Canada with his wife Kay and their two children.  https://nobodybutcurtis.com/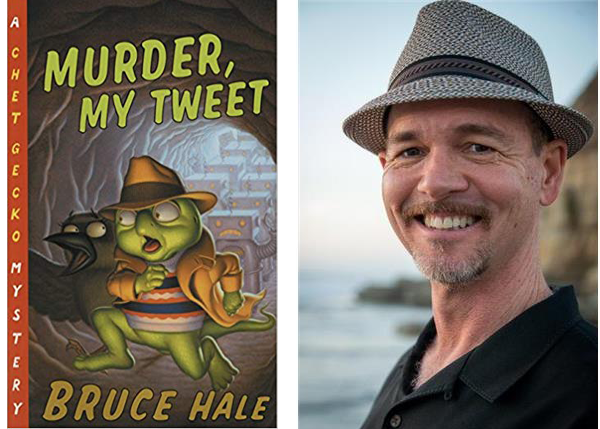 2005 – Bruce Hale
Bruce Hale, author of the wildly popular Chet Geco Mysteries, has written and illustrated nearly 20 books for kids. Bruce also has appeared on television and loves to perform, as he is a gifted storyteller. A Fulbright Fellow, Mr. Hale lives in Santa Barbara California, with his wife, Janette.  https://brucehale.com/